About Us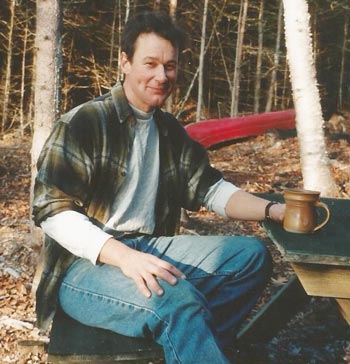 Donald Furrow relaxing at camp.
D.L. Furrow Landscaping is owned and operated by Stonington native Donald Furrow. Don has completed a large number of landscape design and construction projects over the years. You may view photos from a selection of Don's projects in our photo galleries.
With the exception to several years living at sea, and one year working in Saudia Arabia, Don has designed and built landscapes and landscape structures in the Stonington & Deer Isle area steadily since 1976.
Our construction crew - Scott Billings, Scott Daniels, Glen Dunham, and D.J. McManus - is a team that is committed to excellence with the highest level of pride in accomplishment. Most of the crew has worked together for many years - some for decades. D.L. Furrow Landscaping is confident in the hard work ethic and knowledge of this carefully selected team of skilled, creative individuals.
In addition to our own crew, D. L. Furrow has well-established working relationships with qualified local contractors and suppliers on Deer Isle. We believe in supporting local businesses as much as possible.
The Deer Isle / Stonington area is an environmentally unique and profoundly beautiful place unlike anywhere on the Maine coast. At D.L. Furrow, we see our role as that of stewards of a natural environment that is irreplaceable.