Landscape Design Services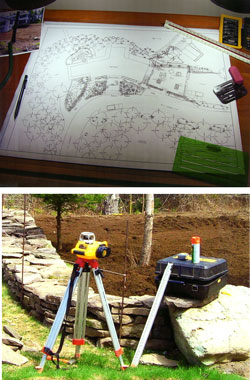 The first step to a successful landscape is assessing assets and challenges involved with the property and taking account of the goals, commitment, and budget of the owner. Only then is it possible to create a design that enhances the property, complements its surroundings, respects the environment, and increases property value.
In some instances, especially those involving shorefront property, it may be necessary to consult with foresters and legal professionals to deal with specific issues that arise. We can refer you to local resources we have used previously or work with others of your choosing.
A note concerning new construction...
Chances are that there were many reasons that lead you to invest and build on Deer Isle or the Blue Hill Peninsula. There may have been a spectacular view, a magnificent ancient oak, or a glacial erratic stone covered with a 1,000-year growth of lichen. There may have been a small stream or the remains of stone walls left over from a time long gone. Without careful planning and consideration of your landscaping goals, unaware contractors may cause the damage or loss of mature trees, stone work, or other elements. The damage is never intentional, but it is avoidable.
Whether or not you choose to work with us, we highly advise consulting with a caring landscaper or gardener before risking the loss of the elements of your site that attracted you to purchase it.
Landscape Construction Services
D. L. Furrow Landscaping has built some of the largest landscaping projects in the Deer Isle area as well as some of the smallest. Whether you own a 100-acre estate in Deer Isle, a 50-acre gentleman's farm in Blue Hill, a few square yards in downtown Stonington, or a stone wall on Isle au Haut, we are prepared with the expertise and manpower to create or improve your landscape.
We invite you to view examples of our work for inspiration, or to view our resources page to find books specific to Maine landscape design.
To ensure that your new landscape investment continues to endure, we also provide knowledgeable and regular maintenance as required.